I love fairy tales. I love the Grimm brothers, and Hans Christian Anderson, Russian fairy tales, and Disney princesses (But only the new-er ones. The older ones get my feminist-britches all in a knot.). It's not a surprise, then, that one genre I absolutely love is fairy tale retellings.
So, may I present, my four favorite fairy tale retellings:
4. A Curse as Dark as Gold -
Elizabeth C. Bunce
"As Charlotte struggles to manage the difficulties she inherits along with Stirwaters Woollen Mill, she discovers a shadow world at the fringes of the familiar: Dark magic, restless spirits, a mysterious Helper. A wicked uncle, an age-old curse.... How can Charlotte prevail with such forces allied against her? In this novel inspired by "Rumpelstiltskin," the miller's daughter of the fairy tale comes to life as a young woman determined to save her family and her mill--whatever the cost."
I love the female lead - she's so strong, and that's something the original fairy tales usually lack. I also love the magic in it. It's really an original telling - you don't feel like you already know the story and how it's going to end, which is nice in a retelling.
3. Ella Enchanted -
Gail Carson Levine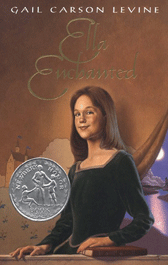 "How can a fairy's blessing be such a curse? At her birth, Ella of Frell was the unfortunate recipient of a foolish fairy's gift—the "gift" of obedience. Ella must obey any order given to her, whether it's hopping on one foot for a day and a half, or chopping off her own head! But strong-willed Ella does not tamely accept her fate. Against a bold backdrop of princes, ogres, giants, wicked stepsisters, and fairy godmothers, Ella goes on a quest to break the curse—once and for all."
When I was in 3rd or 4th grade, I actually got grounded from this book. I'd read it over and over again three or four times in the space of a month, so my mom said I couldn't read it again until I read something else. I hated the movie when it came out. They'd ruined it! I mean, the entire scene with the ogres? In the movie Char comes in all like the knight in shining armour and rescues Ella, where in the book, that is SO NOT HOW IT HAPPENED. And Ella's character is completely different. Actually, everything is completely different. ARGH.
2. Wildwood Dancing -
Juliett Marillier
"There are many mysteries within the wildwood. Jena and her sisters share the biggest of all, a fantastic secret that enables them to escape the confines of their everyday life in rural Transylvania. They have kept it hidden for nine long years.
When their father falls ill and must leave their forest home over the winter, Jena and her oldest sister Tati are left in charge. All goes well until a tragic accident allows their over bearing cousin Cezar to take control. The appearance of a mysterious young man in a black coat divides sister from sister, and suddenly Jena finds herself fighting to save all she holds dear. With her constant companion Gogu by her side, she must venture to realms dark and perilous in her quest to preserve, not just those she loves, but her own independence as well."
I almost didn't read this. To tell the truth, the cover kind of put me off. I though it would be more of a kid's book then I wanted to read. I am so, so glad I checked it out anyway! It's a retelling of the 12 Dancing Princesses, and it is the best retelling of this story I've read. It doesn't feel like a retelling of this story, though, because it is so original. I love Gogu. I love Jena. I love the voice and the setting. I'm scared to read the companion novel, because I don't want it to be narrated by someone else. I loved this one so much.
And, my favorite retelling:
1. The Goose Girl -
Shannon Hale
"She was born with her eyes closed and a word on her tongue, a word she could not taste. Her name was Anidori-Kiladra Talianna Isilee, Crown Princess of Kildenree, and she spent the first years of her life listening to her aunt's stories and learning the language of the birds, especially the swans. And when she was older, she watched as a colt was born, and she heard the first word on his tongue, his name, Falada.
From the Grimm's fairy tale of the princess who became a goose girl before she could become queen, Shannon Hale has woven an incredible, original, and magical tale of a girl who must find her own unusual talents before she can lead the people she has made her own."
Okay, I love everything by Shannon Hale. I've read all of her novels, and they are all amazing. But this one is my first love and my favorite. I had never read the original story, so I really didn't know what to expect going in. It is a beautiful story - Shannon Hale has a rich voice that really does feel like a fairy tale. I love the characters, and the villain has the best ending ever. If you haven't read this one yet, you really should try it out. The companion novels that follow (each with a different narrator) are all fantastic as well, but the Goose Girls remains my favorite.
What about you? Are there any fairy tale retellings you love that are not on my list?