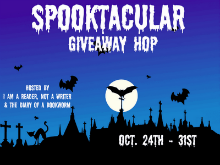 Welcome to my stop on the Spooktacular Giveaway Hop, hosted by
I Am A Reader Not A Writer
and
The Diary of a Bookworm
! For the complete list of participating blogs, go to either website.
I am giving away one of my favorite dystopians of 2011, XVI by Julia Karr:
The synopsis from
Julia Karr's website
:
"In the year 2150, being a girl isn't necessarily a good thing, especially when your sixteenth (read sex-teenth) birthday is fast approaching. That in itself would be enough to make anyone more than a little nuts, what with the tattoo and all – but Nina Oberon's life has taken a definite turn for the worse. Her mother is brutally stabbed and left for dead. Before dying, she entrusts a secret book to Nina, telling her to deliver it to Nina's father. But, first Nina has to find him; since for fifteen years he's been officially dead. Complications arise when she rescues Sal, a mysterious, and ultra hot guy. He seems to like Nina, but also seems to know more about her father than he's letting on. Then there's that murderous ex-government agent who's stalking her, and just happens to be her little sister's dad."
To enter:
If you are under 18 you must have a parent's permission to enter.
Be a follower of this blog and leave a comment on this post with your name and e-mail address, so I can contact you if you win. Open to US only.
Giveaway runs through the 31st, and I'll be announcing the winner shortly thereafter. Good luck, guys!